Ultimate Yaoi-level selector!
Angsty Uke
You are -40% Seme!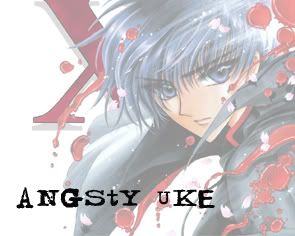 Yes. You are the angsty uke. Seldom smiling and probably persimistic, you are not likely to put in too much effort to give your seme pleasure. You probably have an unhappy past which you tend to brood on whether intentionally or not. Sometimes your angst tends to add unwanted weight to a relationship, but it also adds a certain level of excitement. The relationship may be against your will... but try to look on the bright side. if there is a bright side

Most compatible with: Tyrant (for good old SM fun)

Take this

quiz

!


spied this off of
sjen's journal...

Yeah, that's me - the angsty uke. Or perhaps just very jaded?

This reminds me of my best friend calling me a jaded optimist- or was that a pessimist that plays at being optimistic? Well, in any case...this seems about right for me...